The laminate doors are one of the most preferred interior door types today. It is a very quality and elite interior door type that will definitely add value to your house. So what are the laminate doors? What are the important features? Here is everything about the laminate doors.
LAMINATE DOOR MODELS
Laminate doors differentiate from the types of the manufacturing process. It is easier to produce them. As we can understand from the name, the core element is wood. The material is derived by compressing the fire tree, which calls MDF. Compressed again with cardboard to make a laminate. But this is not the only process. Like the laminate flooring, it is painted or patterned according to the desired color and shapes. This will create the final status of the laminate. So what are the features of it? Here are the most important ones.
Laminate doors are very durable.
It has endless color and pattern choices. You can specialize in it.
As it is MDF in basic, you can put in place reliefs on the product.
You can use them with all kinds of styles like modern, classic, avant-garde, and others.
Although it is a kind of interior door, you can also use them outside like balconies.
Also, it is possible to add extra heath and sound insulation.
These are the most visible features of laminate doors. Other than these, there are some classic ones. They are suitable for all types of door handles, it is possible to have laminate doors with or without glass.
Decoration with the Laminate Doors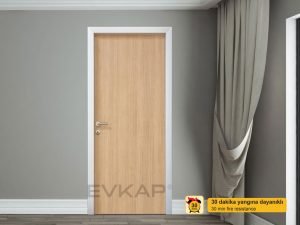 As we mentioned before, laminate doors are very popular for decoration styles. It is also because there are endless choices. The first step for a perfect design is the harmony of the colors. When you match the colors, the rest will be easier. As there are so many color selections for laminate doors, it is easier to create this color harmony.
Laminate doors with white, black, red, and blue colors are very popular with the modern decoration style. If you choose a little bit of older modern decoration, you should choose darker wood patterned doors.
Laminate doors with classic styles are plainer. There is no need for extra-creativity. Less colored, totally plain, and old-era evoking doors are very proper with this style. If the decoration is somewhere between modern and classic, you can prefer more vivid colors.
But if you choose avant-garde, golden should be your choice. You should prefer total natural wood color laminate doors. According to this style, we have so many selections as the Evkap Company. Between with or without glass, you should definitely choose without glass models. Because laminate doors with glass models create a little bit less luxurious view. Inlaid patterned doors are indispensable for the avant-garde style.

We tried to give some advice according to decoration styles. But you can make changes and arrangements for different styles. As Evkap Family, we are always ready and keen to help you with the designing process. You can contact us via mail, phone, or website and learn more about the door types and their prices. Other than laminate doors, we produce many kinds of doors like MDF doors or lacquered doors. Our company is one of the oldest and most experienced companies in interior door manufacturing.
F.A.Q's About the Laminate Doors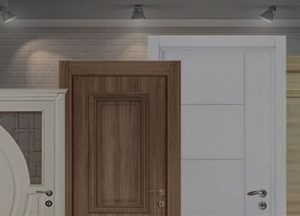 There are so many questions about the laminate doors. As Evkap Company, we compiled some of the important ones. Here are they:
What is a laminate door, or a laminated door?
The laminate door is an interior door type that is very popular in Turkey, UK, and many countries. The manufacturing process is very easy and possible to have so many color types. These make it very popular.
Are laminate doors good?
Laminate doors are a very durable and long-lasting interior door model. Thus, prefer in home decoration. It is soundproof and heats insulated. Since it is resistant to impacts, it does not wear oily. It is easy to clean. You can buy laminate doors with peace of mind.
What is the Price of Laminate Doors?
There are so many variables like the quality, color, style about determining the price. So, it is not possible to give exact numbers. As Evkap Door is a wholesale company, you should contact us to have accurate numbers. But, for retailers, the laminate door prices are between 400 ₺ and 3000 ₺ with the door frame.

Which Decoration Styles are Best for The Laminate Doors?
As we mentioned in the article, all decoration styles are proper for laminate doors. In other words, there are different laminate doors proper for all kinds of decoration styles. There is no limitation to the imagination.

Evkap Door – Content Writer