Internal Glass Doors Home Design Ideas
There are many internal door models for your home. You can use glazed doors, non-glazed doors, sliding doors, patterned doors, embossed doors, and many other interior door models in your homes. Among the door models, one of the most striking door types is the glass interior door model.
Glazed internal door models are an option with a wide range of products. Glazed doors are generally preferred as kitchen and living room doors in homes. The most important reason for this is that the doors of these rooms are always open and do not require privacy. For example, the bedroom door is preferred to glassless models.
Today, we will give ideas about glazed interior door models and we will present you with the most beautiful glazed internal door models. EVKAP offers you the best interior door models with 70 years of experience in the sector.
The Most Attractive Internal Glass Door Models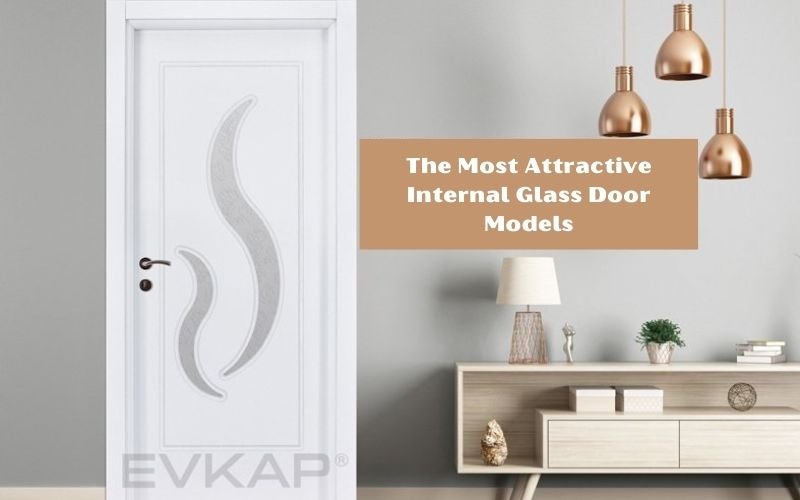 Each type of door has a glazed model. For example, PVC glazed doors, wooden glazed doors, lacquered glazed doors, and laminate glazed doors are just a few of them. In addition, each glazed interior door model has different colors. In other words, it will be very easy to choose the most beautiful glass interior doors for your home decoration. Now let's examine the most beautiful glazed interior door models with you.
Glass Lacquer Door Models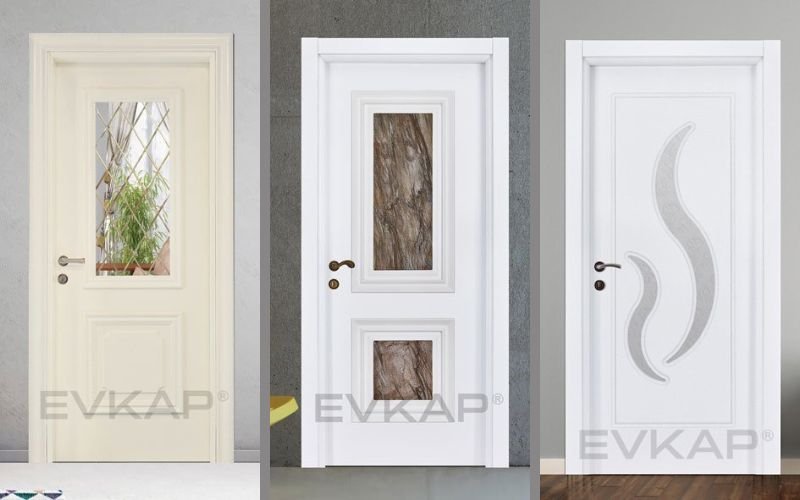 Lacquered doors are quite elite and flashy door models. It is generally known as an expensive door type, but it adds great elegance to its area. Glazed lacquered doors, on the other hand, add a different atmosphere to the lacquered doors, making the living area look more modern and aesthetic. The glazed lacquered interior door model you see below is very stylish and flashy. You can give your home a modern look with this glazed lacquered door model, which you can choose in ecru and white colors.
You can view the glazed lacquered interior door models by clicking the link.
Glass PVC Interior Door Models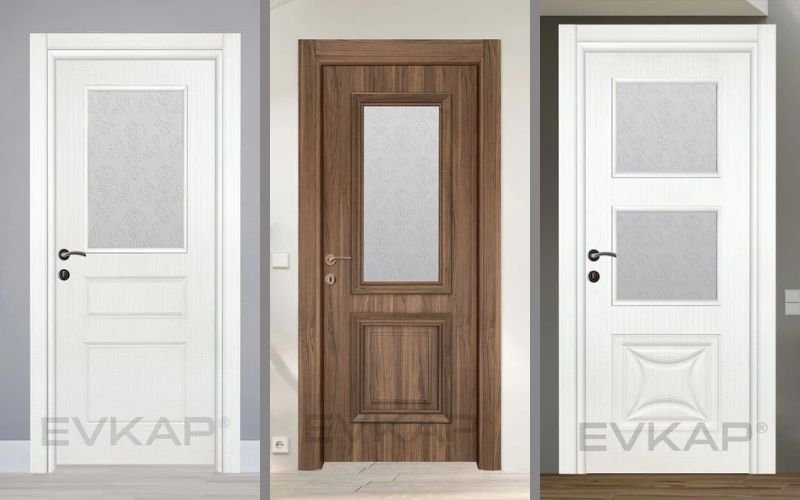 PVC doors are the most preferred budget-friendly interior door type in recent years. PVC interior doors, which can be produced with or without glass, have a very elegant appearance. Wooden, white, gilded, and PVC doors, which are offered to you with different patterns, also impress with their glazed models.
The glazed PVC interior door model you see in the picture is a very nice option for those who love the wood color with its rustic appearance.
By clicking the link here, you can examine the PVC glass interior door models and buy the product you like.
Glass Wooden Door Models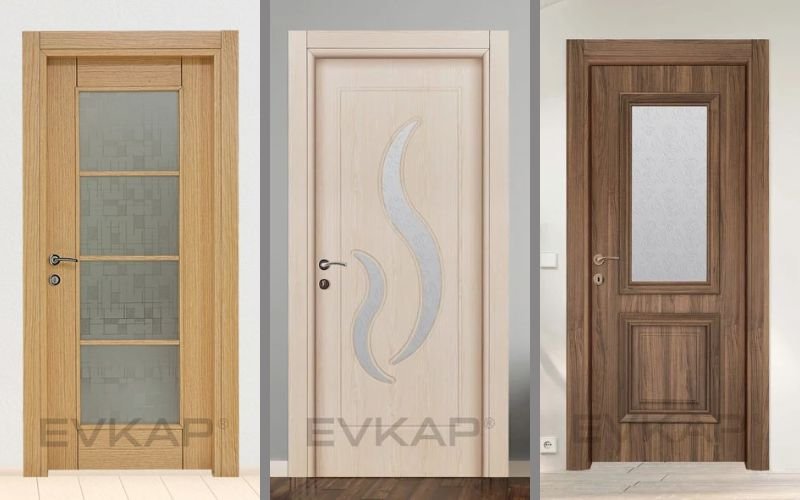 Wooden doors are a type of door that is popular in every period and are generally preferred by people who prefer wood and white decoration at home. Wooden doors are known for their durability and are therefore often preferred.
The wooden glazed internal door model you see below consists of 4 separate glasses. Frosted glass is used on the wooden door. If you wish, normal glass can also be used. But nowadays, frosted glass is preferred for interior doors.
You can examine the wooden glass interior door model with its modern and stylish appearance by clicking the link here.
Glass Panel Door Models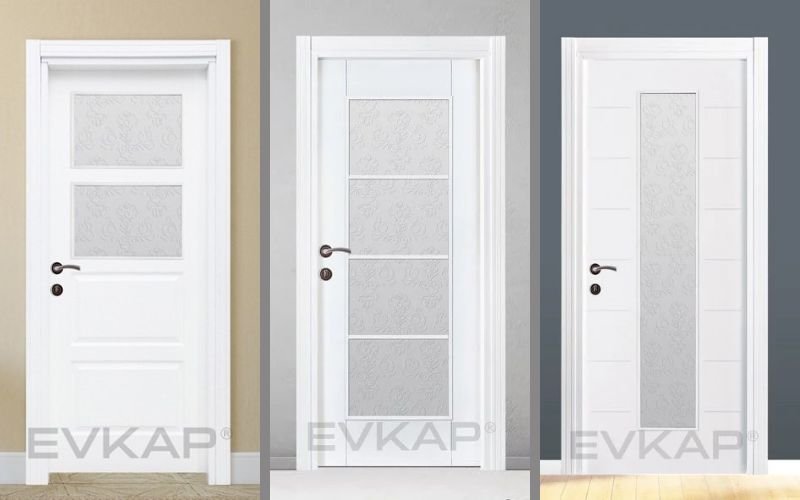 Panel doors are a very stylish and budget-friendly interior door type that you can see in one of the 3 houses.  Panel doors, which are produced in different colors, are generally preferred in white. Glazed panel doors, on the other hand, can serve you for many years with their stylish and aesthetic appearance.
The panel-glazed interior door model you see below has been designed using a single glass and is presented to you with a very stylish design. By clicking the link here, you can buy the glazed panel door model and add elegance to your home.
Glass Melamine Door Models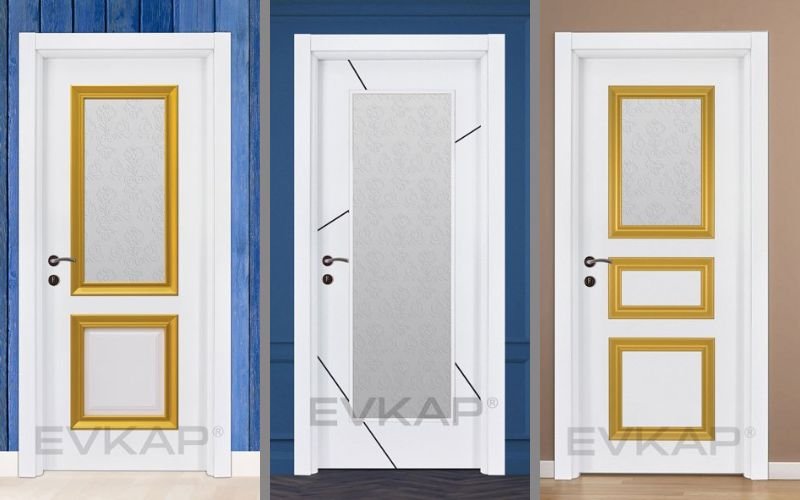 Melamine interior door models, which can be produced in different colors, are the most preferred colored interior door models in recent years. It is durable like PVC doors and budget friendly like panel doors. Glazed design can be applied to every model of melamine door. Although they are usually produced in white and wood colors, melamine-coated doors can be produced in any color you want.
The interior door model with melamine puppies you see below is designed with frosted glass and is a very beautiful model. You can examine the melamine glass internal door model in detail by clicking the link.
Glass MDF Door Models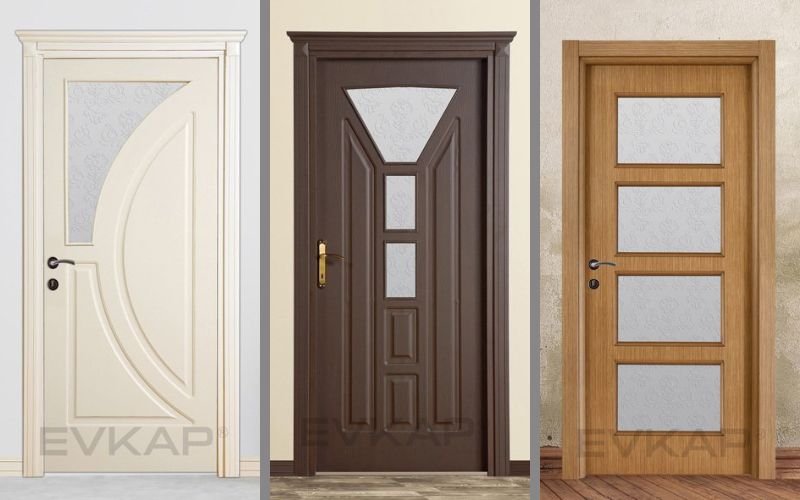 MDF doors are door types known for their durability. Therefore, it is often preferred indoors. Glazed MDF door models are offered to you with many different aesthetic designs. The dark brown glass MDF cup model you see below consists of 3 glasses and adds a modern look to the living space with its aesthetic edge lines. You can see more glass MDF door models by clicking the link here.
Meet The Best Interior Glazed Door Manufacturer EVKAP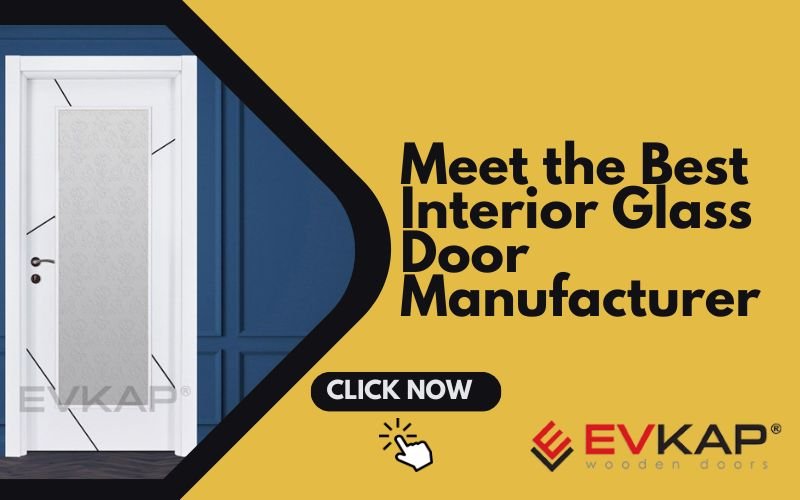 As EVKAP we are one of the best interior door manufacturers in Turkey. Just contact us to get interior glazed door prices and cost for you. You can buy wholesale or custom designs.

Evkap Door – Content Writer