Which doors are suitable for the bathrooms?
One of the points to consider when making home decorations is the choice of bathroom doors. There are some things to consider when choosing a bathroom door. As you know, the bathroom is a moist and wet area. And the bathroom doors must be water-resistant.
BEST BATHROOM DOOR MODELS
Like other doors in your home, you want the bathroom doors to be stylish and flashy. This is, of course, your most natural right. If you want durability in bathroom doors, EVKAP Door should be your choice.
Evkap Company is one of the best interior door manufacturers in Turkey. We also use our 65 years of experience in manufacturing bathroom doors. We offer the latest technology and the system durable doors to our valued customers.
You can decide what type of door you want to have by examining the EVKAP 2021 interior door catalog.

The importance of the bathroom door is different for the building sector. Because the water and moisture resistance of bathroom doors is more important. Since the bathroom and toilet are the most in contact with water at home. Their doors should be extra durable.
For this, of course, the door you will receive must have a high resistance to water and moisture. Bathroom doors of businesses that serve not only the home doors. But also the tourism sector such as hotels should be very durable. Otherwise, the operator may have to change the door in a short time.
Which type of door is best for bathroom?
About the house, the bathroom is a room of the house and thus it should consider like other doors. Every step we take by thinking of the future will also suffer less. Thus, you prefer long-lasting and water-resistant bathroom-toilet doors.
Also, bathroom doors should be hygienic when viewed from a health point of view.
Easy to clean
Dirt-proof
Stain-free
Color does not change over time
Of course, you need to work with a quality door manufacturer for this. As the door manufacturer EVKAP, we offer you the key to quality.
What to consider when choosing a bathroom door?
Should the glazed bathroom door or non-glazed bathroom door choose?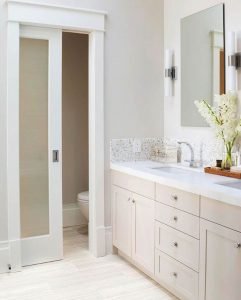 First of all, you need to decide whether your bathroom door will be with or without glass. Because all door models are produced with glass. But bathroom doors are generally preferred without glass. The reason for this is that the bathroom is an important area for privacy. And it would not be appropriate to see it from the outside.
Of course, glazed bathroom doors are also produced upon request. If you are going to buy a glass bathroom door, definitely prefer frosted glass. In this way, the inside will not be visible and your guests who use your bathroom will not be disturbed.
The bathroom door lock should be.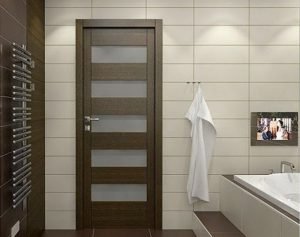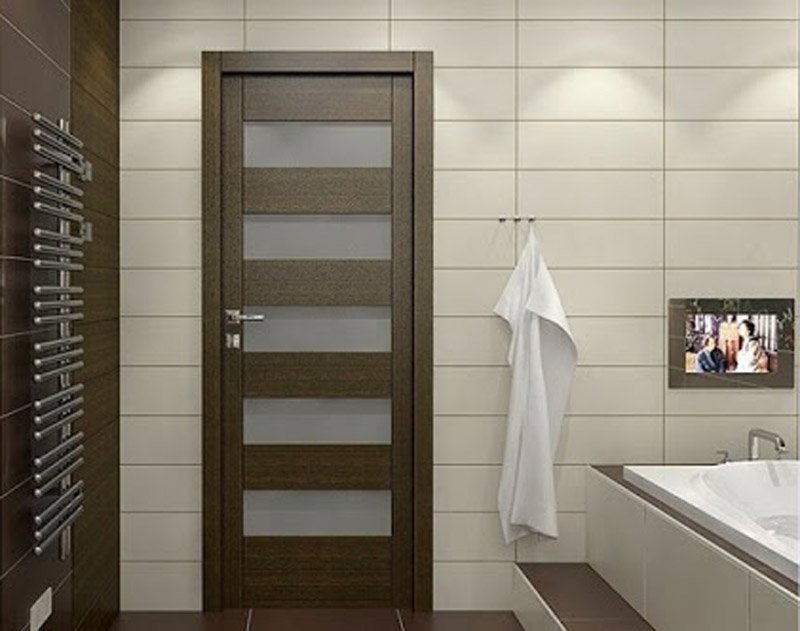 Privacy, the most important of the reasons we mentioned above, is also valid here. Having a lock on the bathroom door, that is, having a key, is important for the people who will use the bathroom. We cannot feel peaceful and comfortable in a bathroom without a bathroom door lock. So the lock for the bathroom door is an important detail.
We can even say the most important detail.
Make sure that the locking system of the bathroom door is water, moisture-resistant.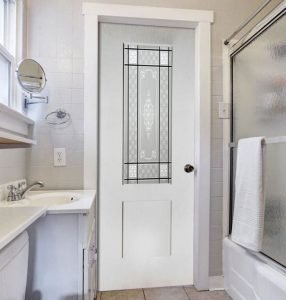 This is a very important issue. If you want the bathroom door lock to be long-lasting. You should choose a door lock with corrosion resistance. For this, corrosion-resistant steel or metal door handle and lock system was chosen.
If you do not pay attention to this. After a while, the door handle will age, wear out and an unpleasant appearance will appear. Besides, if the door handle is rust, it is not good and starts to threaten your health after this point.
Please make sure it is water and moisture-resistant when choosing a bathroom door handle and lock system
.
For this, plastic door handles are also preferred in bathroom door handles. Door handles made of harmless and long-lasting plastic can be good for you. But, if it does not push your budget, we recommend you choose a stainless steel door handle.
As EVKAP, our bathroom doors are resistant to water and moisture and our lock system is very long-lasting in the same proportion
. So, you can choose us with peace of mind. Don't be late to meet 
Turkey's best door manufacturer EVKAP
. We will do our best to make you happy and satisfied.
Take Care When Choosing Bathroom Door Material.
Water and moisture-resistant wooden coating bathroom doors should be preferred. For example, the PVC door is a very useful type of door as a bathroom door. You can contact us for the bathroom door details.

EVKAP doors are produced resistant to water and moisture. Thus, you can choose any of our door types as bathroom doors.
How to choose a bathroom door color?
The color of the bathroom door can be according to the decoration of your bathroom. For example, if you have a white and light bathroom decoration, you can choose a gray or off-white bathroom door.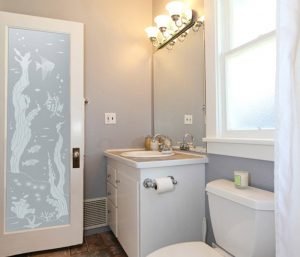 If you have a traditional decoration, you can choose a brown and wooden bathroom door.
Or if you have a dark-colored bathroom decoration, you can choose a light-colored bathroom door.
Bathroom Door Prices
Bathroom Door prices vary from model to model. EVKAP produces the best quality interior door models. Examine the EVKAP 2022 interior door catalog and decide what kind of door you want to have.

Evkap Door – Content Writer