How to Clean Panel Doors According to Their Features?

Panel doors are one of the most common and most preferred door types because they are very easy for mass production. This is why they have some benefits like being;
In good quality,
Easy for standardisation,
Very cost-effective.
On the other hand, there is another positive feature of them that makes panel doors very attractive for the users; various types of models and colors. There are hundreds of selection types of them, so you will have difficulty choosing. As panel doors are this common, it is easier to produce and install them very quickly. As Evkap Company, we manufacture many other door types like lacquered, MDF, or laminate doors that are mass-produced, but American doors are very price-effective in that they are preferred for mass use like hotel rooms, hospitals, and other public uses.

So, most people wonder one important thing about these popular doors; how to clean panel doors? As they are preferred for mass use, is it hard to clean American doors? How long will it take to clean one of them? Today, we will give wonderful tips about the cleaning of panel doors. And, to understand this, we will talk about the features of panel doors first.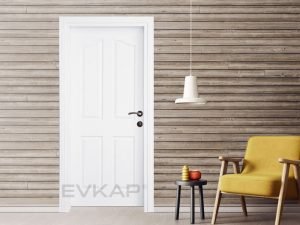 What are The Features of Panel Doors?
Interior door cleaning is a very important issue because cleaning them by the book is also the maintenance of them. When you clean them with the right materials in the right way regularly, you will definitely increase the lifetime of your product. So, here are the important features of panel doors that have a direct effect on their cleaning;
Weight. One of the most popular features of panel doors is the weight or lightness. American doors are very light, so it is very easy to produce, carry, mount, and use them. You should keep the weight of the panel doors in your mind while cleaning.
Durability. Although they are very light, panel doors are very light when you consider them with their weight. The production method; high-temperature press makes them very strong in structure. So, as they are very durable, you can clean them the way you wish.
Ability to Move Both Sides. panel doors can move either way you prefer; back or forward. This feature also helps cleaning very well.
Water-resistance. Panel doors are water-resistant, so they don't get affected by moisture easily. So, it is easy to clean them with proper equipment.
How to Clean Panel Doors?
Although there are various color types of panel doors, the most preferred color for them is white. So, as they are white, they get dirty very easily and they require cleaning more often. So, what should we use to clean panel doors? You should always keep in mind that the right method with the right material will provide great results very easily.
First of all, you should prefer to use a damp cloth. Heavily wet rags will make it harder to clean. But, you should use more dense chemicals for the more contacted spots like doorknobs, or door handles. Bleachers are very proper for this aim.
The most effective material to use for the door cleaning is the mixture of lemon, vinegar, and baking soda. Mix these materials in warm water, and use a soft rag for the cleaning. To provide hygiene, you should renew the water often.
For easier door cleaning, you can use a clothes brush if it is oil painted. This will be very helpful if the door is very dirty. Also, using heavy chemicals with the water is possible with the heavily dirty doors. On the other hand, the upside spots of your doors are generally not in front of the eye, and they don't get cleaned most of the time. To provide hygiene very well, and prevent your white doors to get dirty, you should also clean these parts of your panel doors.
As you may understand, most of the interior doors are cleaned in the same way. As Evkap Door Company, we want our customers to use their doors for a long time. So, you should clean your panel doors often as it is told in this post.