Door Pattern
A door pattern is a wonderful way to add personality and style to your home. You can add style to your home with elegant details or ostentatious door patterns that are compatible with your furniture. If you want to add elegance to your home with interior door designs, this article is for you. Now, the most elegant door models will decorate your home with their aesthetic patterns.
The Most Stylish Door Patterns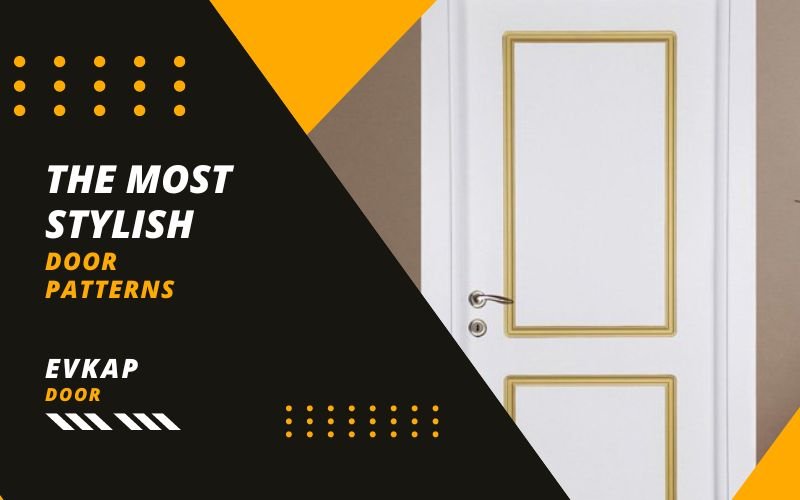 Interior door models come with a lot of different options. Every door model also has different pattern alternatives. For example, some feature geometric patterns, while others are adorned with more traditional touches. Some are adorned with thin lines, while others feature wide and thick panel designs.
Patterns on doors are a crucial factor in how they look and how they can be used. For example, if you have a colorful and dynamic decoration, the door patterns should have finer and more elegant details. This prevents the formation of a complex design in your house. Or if your home has a simple design, door patterns can be more interesting and flashy.
This completely depends on the design of your home, your style, and the decoration you imagine. You can find many alternatives for interior door patterns below.
Interior Door Patterns by Door Models
Door models can be examined under 8 categories: American, PVC, lacquer, laminate, composite, melamine, MDF, and wood. Since the design of each door is different, the patterns are also made by the style of the door.
Another way to add patterns to the doors is to prefer glass interior doors. Glass in interior doors is a pattern on its own. The windows are placed inside the door pattern. In this way, the door patterns are created with the glass.
Panel Door Patterns
Panel door pattern are generally made as panels. For this reason, it is called a panel door. 1, 2, 3, 4, 5, or more panels are designed on the surface of the door. This allows the emergence of American door patterns. Sometimes these panels can also be put in the glass.
PVC Door Patterns
PVC door pattern are among the modern door alternatives. It comes in many different designs, small and large. PVC door patterns add elegance to your home with interesting designs in the form of panels, oval patterned, or embossed models.
Lacquered Door Patterns
Lacquered door patterns have more ostentatious patterns than other interior door models. It is often decorated with gold or gilded touches, also attracts attention with its embossed patterns. With luxury door patterns, you can choose lacquered door patterns to add a rich look to your home.
Laminate Door Patterns
Laminate door patterns often consist of flat designs. In this product, which has fine lines on the door surface, the wood texture is brought to the fore. Tree patterns are often embroidered on laminate doors to give a natural wood feel.
Composite Door Patterns
Composite doors, one of the indispensable door models of interiors, are frequently preferred in hotels. It has an important place in these places due to the sound and heat insulation it provides. Composite door patterns have numerous patterns, depending on your style, including glazed, non-glazed, paneled, and geometric shapes. It is the right choice for those looking for a difference in interior.
Melamine Door Patterns
Melamine door pattern are created by processing natural wood on melamine doors. The tree patterns found in nature are engraved on the melamine surface and the doors are covered. In this way, melamine door patterns are formed. It attracts attention with its embroideries in different colors, as well as its glazed and non-glass models.
MDF Door Patterns
MDF door is one of the most durable types of interior doors. There are models with glass and without glass. Generally, they have dark color options and flashy patterns. Ideal for those who like heavy and traditional patterns indoors.
Wooden Door Patterns
One of the most preferred interior door models. Wooden door patterns are inspired by nature and processed on the doors. It adds elegance to your home with its glass or glassless models. It is generally produced in tan, brown, and wood tones. Ideal for those who like the natural touch in their home.

Evkap Door – Content Writer